Gun violence is a public health crisis
Recent mass shootings show it's long past time for accountability and action
Staff report
National Nurse Magazine – April | May | June 2022 Issue
On May 14, a white supremacist shot and killed 10 Black people at the Tops supermarket in Buffalo, N.Y. Ten days later, 19 elementary school children and two teachers were shot and killed in Texas. A week after that, a patient shot four people dead at a Tulsa, Okla. medical office before killing himself. After these horrors, nurses know that moral outrage is not enough. There must be accountability and action. The lack of strong gun control laws threatens public health.
"Gun violence is a public health emergency," said National Nurses United President Jean Ross, RN. This year alone, there have been more than 200 mass shootings, following nearly 45,000 gun-violence deaths in the United States last year. Gun violence has become the leading cause of death for children and teens up to the age of 19.
"These terrifying events in Buffalo and Uvalde must be a call to action," Ross continued. "We cannot let politicians and lobbyists who have sanctioned gun violence by blocking common-sense reforms continue to allow this devastation of our communities and nation. This is not about 'playing politics,' it is about saving lives."
In the wake of these horrific shootings, NNU issued statements in response and supported the second, student-led March for Our Lives protests that took place on June 11 in Washington, D.C. and around the country, to demand meaningful action to end massive gun violence. NNU also called on legislators and chief executives in Washington, D.C., and in state capitals to enact immediate and impactful gun control reforms, most especially a ban on assault rifles and the deadly ammunition used in these recent shootings.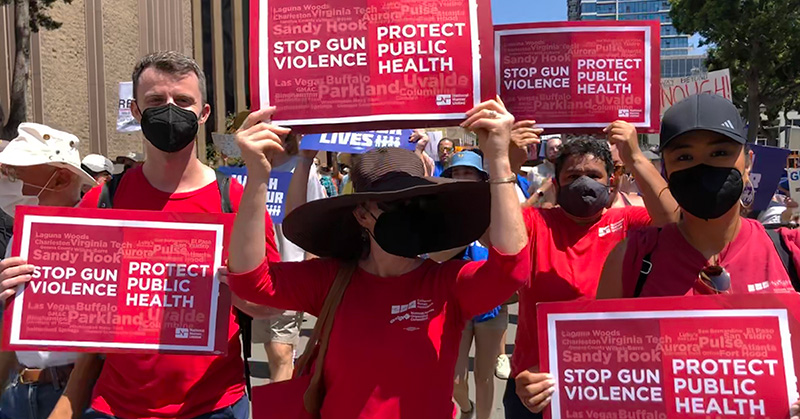 Nurses on the Buffalo massacre
In the wake of the shooting in Buffalo, NNU pledged to work with elected officials and community organizations to hold accountable not just the perpetrators of white supremacist terrorism, but also those who inspire and encourage them.
"We need to hold these online platforms and people accountable," said Edith Nesbitt, an ICU RN, nursing educator, and associate director of her union, NNU-VA, at the Buffalo VA Hospital. "The nursing motto is, 'It's better to prevent than to treat.' After people have been killed, that damage is done, and you have destroyed more than just one life. These 10 people were pillars in our community and each touched and changed thousands of lives."
Nesbitt said her wife is a teacher and that her entire family works in public service professions, and many are now afraid to go out in public, go to work, and send their children to school. "We dedicate our lives to taking care of people, regardless of who you are," said Nesbitt. "And now people want to kill us just because of the color of our skin? It's devastating."
The Buffalo community is tight-knit, and her Buffalo VA colleague Nicole White shared deeply in Nesbitt's sorrow and anger. "I sit in pain with the African American community over the events of May 14," said White, who is a float pool RN, also a nursing educator, and serves as NNU-VA director at her facility. She grew up in the Tops market neighborhood and a family member was working inside the store during the shooting. "A hate-filled man pulled the trigger, but he was handed the gun by every person, politician, news outlet, and social media platform that espouses white supremacy ideology."
Both Nesbitt and White said that because of the public's high esteem and trust of nurses, nurses' expertise in caring for all members of society, and nurses' strong educational backgrounds, that nurses have an important role to play in public policy conversations and decisions about how to prevent racist violence in our communities as a matter of public health. Buffalo VA nurses plan to start and organize nurses through a Social Justice Committee at their hospital to participate in such efforts. "We will do our part to dismantle this culture of oppression and violence and build a community where my Black and Brown brothers and sisters know that their lives matter," said White.
Nurses throughout New York state share in the Buffalo community's grief and determination to prevent racist violence. "Our hearts go out to the victims, survivors, and their family and friends," said New York State Nurses Association (NYSNA) President Nancy Hagans, RN. "Those lost had many connections and loved ones in Buffalo's East Side community and beyond. We are thankful for our first responders, caregivers and NYSNA nurses at Erie County Medical Center (ECMC) who treated the victims and survivors of the shooting. Our union family at ECMC is part of these connections and is especially mourning the tragic loss of loved ones."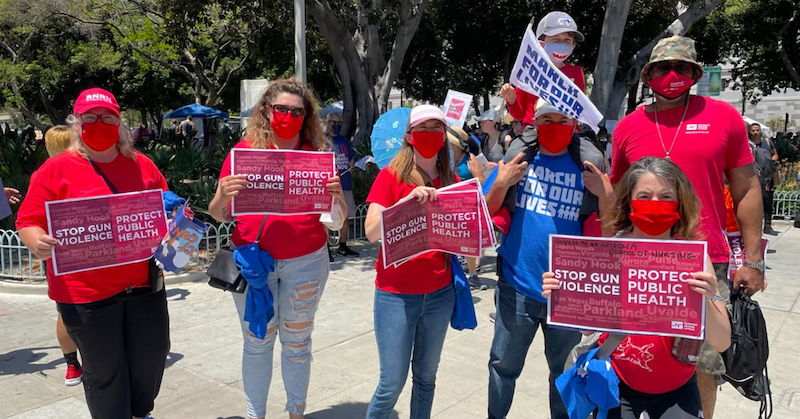 NNU and NYSNA respond to Uvalde shooting
The registered nurses of National Nurses United (NNU) and New York State Nurses Association (NYSNA) were deeply disturbed by Congress' refusal to reduce gun violence and ensure safe schools, workplaces, and all areas of society by enacting desperately needed gun control laws. Shamefully, the Uvalde school shooting is the 213th mass shooting in the United States this year alone, according to the Gun Violence Archive, an independent data collection organization.
"It's clear that gun violence is a deadly threat to public health in this country," said Jean Ross, RN and president of NNU, the country's largest union and professional association of registered nurses. "People can't go shopping at the supermarket or send their kids to school without fear of getting shot and killed. We all need to be able to feel and be safe: at school, at work, in places of worship, everywhere."
NYSNA President Nancy Hagans, RN, said, "The trauma of gun violence and especially the mass shootings we have witnessed in recent weeks deeply impacts the victims, survivors, families, first responders, medical professionals who treat the victims, and the entire community. Across the country, nurses, workers, and parents all feel the pain of loss and the despair of knowing too little has changed since the last tragic mass shooting. We need our political leaders to offer more than empty rhetoric — we need real change. Gun violence is a public health emergency, and we need to use every tool possible to remedy it."
In keeping with nurses' commitment to promote the health and well-being of all people, NNU has called since 2019 for the ban of assault weapons. In addition to a ban on the manufacture, sale, and possession of assault weapons and magazines with more than 10 bullets, NNU encourages Congress and state legislators to consider other reforms that would reduce gun violence and save lives.
"Nurses advocate for our patients' health and for public health," said Ross. "We will be joining efforts to win the gun control reforms we need to make our society safe. This means confronting the extremist agenda of far-right politicians and their gun lobby backers, and it means holding them accountable for disregarding the health and safety of our communities."